Almaty – the very name means Father of Apples! I love apples, and it has been a dream of mine for many years to come and see them at their centre of origin – central Asia. And yes, there are already a lot of apples to be seen – kids walking down the street eating apples, apples for sale in the markets, apple-themed souvenirs in the souvenir shops…
What we know as the domestic apple, Malus domestica, originated from multiple hybrids of various Malus species, and selection pressure from both humans and bears. The primary ancestor M. sieversii is a native to Central Asia and there are various other species in the region too. Because of its historical significance as part of the Silk Road trade route the apple, and many other species of fruit and nuts, were dispersed throughout Eurasia with travellers and their livestock.
Almaty is breathtakingly beautiful. The glacier-capped mountains immediately to the south of the city are visible throughout. I found it very hard to tear my eyes away them for at least the first 24 hours (maybe coming from Australia where we experience very few majestic peaks, let alone with year-round snow caps and so close to a major city, made this even more special for us).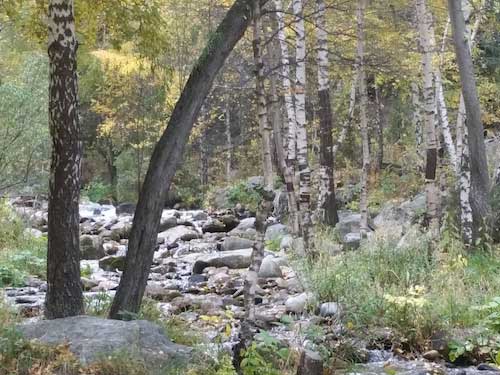 On our first day our English-speaking botanist guide Svetlana and driver took us out of the city up into these mountains. We walked along a clear, clean stream with drinkable water and recognisable vegetation everywhere. Apples were the focus of my quest to visit Kazakhstan, but I was also aware of the number of other local species that have made it out into cultivation – and I wasn't disappointed. Within the couple of hours' walk we saw wild oregano, tarragon and other Artemisia, black raspberries, and various other small shrubs and herbs. A three metre high black currant bush was particularly impressive. Sea buckthorn (Hippophae rhamnoides) is a common shrub, often growing right on the creek.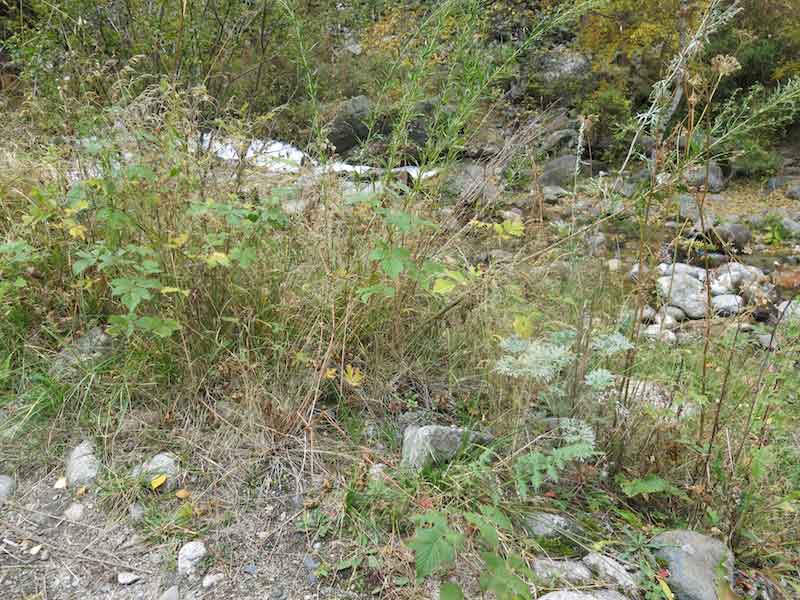 (If anyone has read Jean Auel's Clan of the Cave Bear, you will know the landscape and the plants. Despite these books being such a big part of my teenage years, this had not occurred to me until I was walking along the creek; suddenly I was Ayla walking along a mountain stream surrounded by edible and medicinal plants. Although set 3,000 km away in present day Ukraine, the geography is very similar: the foothills of large mountains meeting the steppes.)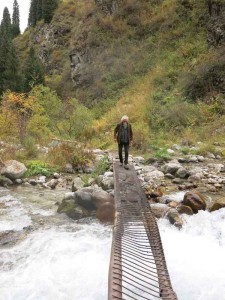 We walked along the flowing stream, took in the magnificent Big Almaty Lake, walked some very dodgy Soviet infrastructure (you couldn't quite call it a bridge) and experienced an environmentally-focused, interactive art installation within the nature reserve.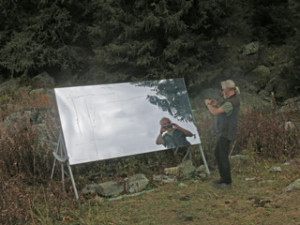 We also encountered a friendly herd of horses – free range but domesticated and obviously very healthy with such a diverse abundance of herbs to feed on. They would go back to their stables when they were ready, Svetlana assured us – when the winter cold set in if not before.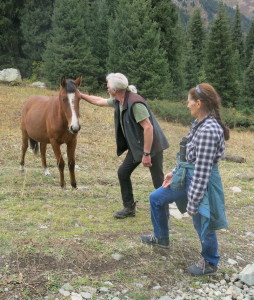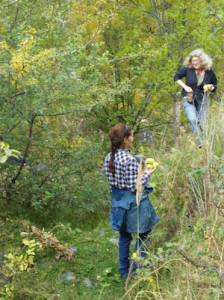 No wild apples as yet though. There were a couple of trees by the roadside as we drove down the mountain. They could have been from wild stock, but they could also have just as easily arisen from cores thrown out of car windows as occurs in the rest of the temperate world, our part of Australia included. Nevertheless we stopped for a taste test – edible but nothing particularly special.
We are lucky to be staying directly across the road from the Green Market – the big central market of Almaty. It is one of those markets where you can buy seemingly anything – clothes, shoes, home goods, stationery, toys – but of course for me the food hall and surrounding stalls were the highlight. Towers of dried fruits and nuts, fruit sellers, fruit juices extracted on the spot with manual machines, stalls of fresh and preserved meats, lots of Korean-style salads, and fermented milk products.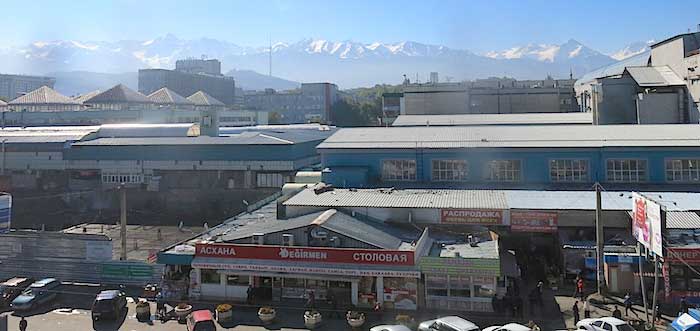 The meat stalls were in long rectangles with multiple stall-holders sitting around the edges facing out to the customers. In the centre space was the butcher, cutting up the meat to the cuts requested by the stallholders surrounding him. We were entertained by a very impressive display of butchery using a broad-axe. Although our language was such that we could not ask questions, we could at least express our appreciation of such mastery, and the butcher in turn made it clear he was pleased to show off his skills to the foreigners.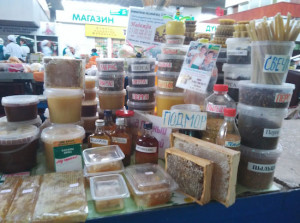 A line of stalls were selling a quite bewildering array of bee products – honey of all colours, beeswax and products made of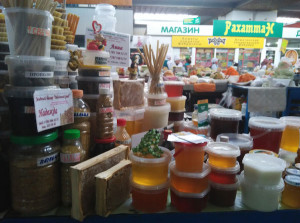 beeswax, various types of pollen, and propolis. Again the language barrier was frustrating – I understood the honey being sold in-comb, the way it sometimes is in Australia, with sections of honeycomb cut from frames with wax and jewel-like honey still encased, but why sell pieces of old comb, black with use, with no honey? Maybe for some medicinal purpose, but there was nobody I could ask.
Another interesting set of stalls consisted of what appeared to be foraged fruits and berries (this was confirmed by Svetlana later) – it is interesting that in a relatively rich and industrialised economy, it is still possible to make a living from foraging. On the stall were rosehips, barberries, sea buckthorn, various hawthorns, small plums and black and red currants – with multiple varieties of the rosehips, hawthorns and plums.